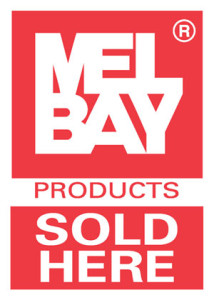 Bestseller
Children's Ukulele Method (Book/CD Set)
by Lee "Drew" Andrews

This ukulele method was written for children and beginners of all ages. Beginning with simple chords and songs this method is perfect for all beginners. Students are also taught to play and read single note lines on the ukulele. Proper holding, strumming and picking techniques are taught through text and pictures. Large text, notes and diagrams make this an easy book to use. The songs used in this method are well-known tunes for players of any age. Accompanying CD contains all examples and songs in the book.
PRODUCT ID: 21138BCD
FORMAT : Book/CD Set
UPC: 796279110792
Price:
$14.99
Add to cart
Easy Baritone Ukulele (Book)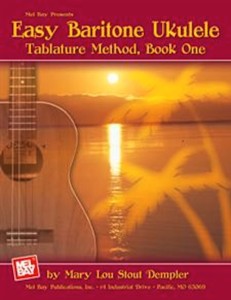 by Mary Lou Stout Dempler
Students will develop music reading skills because of this unique, one-of-a kind, tablature method. Students can play immediately, without reading music utilizing the handy tab, as well as learn to play chords quickly and effectively. This will in turn enable them to sing along with the lyrics provided with each song; A valuable guide to ukulele players of all kinds.
read more >
PRODUCT ID: 21323
FORMAT : Book
UPC: 796279101622
MSRP:
$11.99
Your Price:
$11.99
Add to cart
Easy Ukulele Method Book 1 (Book)
by Mary Lou Dempler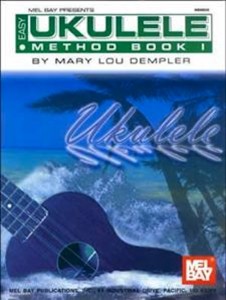 The Easy Ukulele Method books give you music at your fingertips! Using both notation and tablature, this method is so easy that in minutes you will be strumming your ukulele and singing along to familiar songs. Students of all ages will enjoy this book! The ukulele is an instrument for everyone and every type of music! So begin today using this tablature method and discover the wonders of this little instrument.
read more >
PRODUCT ID: 99558
FORMAT : Book
UPC: 796279074957
MSRP:
$9.95
Your Price:
$9.95
Add to cart
Easy Ukulele Method Book 2 (Book)


by Mary Lou Dempler
The Easy Ukulele Method books give you music at your fingertips! Book II reviews many of the fundamentals presented in Book I. It tests your music reading skills with worksheets, expands your knowledge with additional chords, and gives you many more songs to play. Both notation and tablature are used, allowing you to strum along using the chord symbols or play the melody with the tablature.
read more >
PRODUCT ID: 99559
FORMAT : Book
UPC: 796279074964
MSRP:
$14.99
Your Price:
$14.99
Add to cart
Hints & Tips for Advanced Ukulele Players (Hawaiian Style) (Book)
by Hideo M. Kimura
" Learn the inner secrets of trick and novelty ukulele playing as well as the basics of advanced jazz-type chord substitution. Add color to your solos with this goldmine of little-known techniques. If you can already pick and strum the basic melody of a song, you can use the ideas in this manual to learn how to express your creativity. How-to instructions include: ""wah-wah,"" chime and bongo effects, vamp runs, multiple tremolos, the rhumbas strum, pencil percussion, the ""bend,"" ""two-on-one-uke,"" speed…
read more >
PRODUCT ID: 98235
FORMAT : Book
UPC: 796279061414
MSRP:
$14.99
Your Price:
$14.99
Add to cart
Let's Play Ukulele (DVD)
JODY KAMISATO
"Jody shows you the trendy island style ukulele in this DVD. Features include: *Four Finger Exercise *Basic cords C-Am-F-G7*Instruction for most famous Hawaiian pop song ""Drop Baby Drop"" *Instruction for ""Ainakoa""(The Aloha Tofu commercial song) & ""Mr Loo"" "
read more >
PRODUCT ID: 0977408302
FORMAT : DVD
MSRP:
$19.95
Your Price:
$19.95
Add to cart
Ukulele Bass Manual (Book/DVD Set)
by Martin Schroeder & Liselotte Schell
This ukulele bass handbook offers a theoretical introduction to the development of the instrument and its maintenance, stringing and care. Discover the secret of the "UBass": how can such a small instrument make a sound that deep? Co-author Martin "Bassmati" Schroeder put the Kala UBass to the acid test and lets us take part in his experiences in studio and live recordings. The theoretical part is followed by tunes, bass lines, songs and catchy grooves to help you to learn. Cajon and UBass fit together rea…
read more >
PRODUCT ID: 30058DP
FORMAT : Book/DVD Set
MSRP:
$22.99
Your Price:
$22.99
Add to cart
Ukulele for Dummies (Book/CD Set)
by Alistair Wood
Learn everything ukulele-from chord progressions to playing pop, folk, and holiday favorites-and, yes, even Hawaiian music! The ukulele is hot. The season one finale of Glee featured a ukulele. The recent hit song "Hey Soul Sister" by Train includes the dulcet tones of a uke. Not to mention the runaway success of the Ukulele Orchestra of Great Britain. For anyone wishing to master this fun, surprisingly versatile instrument, Ukulele For Dummies covers all the basics-from chords and strumming pattern…
read more >
PRODUCT ID: 9780470977996
FORMAT : Book/CD Set
MSRP:
$24.99
Your Price:
$24.99
Add to cart
Ukulele Handbook (Book)
by Axel Richter
"This book is for the intermediate and advanced level players. It displays all chords in six tunings for the different sizes of the ukulele. Of course, there are other books which show how to build chords, but when you are playing a new song, you need an ""almanac"" for a quick look over all the possibilities to play a certain chord. That leads you into arranging a song and creating your very own style of playing. "
read more >
PRODUCT ID: 99789
FORMAT : Book
UPC: 796279081757
MSRP:
$14.95
Your Price:
$14.95
Add to cart
Understanding Ukulele Chords (Book)
by Robbert van Renesse
This book is intended for ukulele players who had some experience with their instruments, but would like to increase their musical ability, as well as for guitarists who like to improve their accompaniment skills on the treble strings of the guitar. There exist many excellent introductory ukulele methods, as well as extensive chord dictionaries. Instead, this book is intended for those players who wish to be able to sight read from a fake book, figure out the chords to a song without a chart, create accom…
read more >
PRODUCT ID: 20704
FORMAT : Book
UPC: 796279096515
MSRP:
$10.99
Your Price:
$10.99
Add to cart
Ukulele Heaven – Songs from the Golden Age of the Ukulele (Book/CD Set)
by Ian Whitcomb
A wonderful tribute to the ukulele and its leading advocates, past and present. Contains seventeen classics and eight new tunes as well as an in-depth historical essay illustrated with original sheet music covers. Classic selections include: Yaaka Hula Hickey Dula; Where Did Robinson Crusoe Go with Friday on Saturday Night?; All That I Ask of You Is Love; They're Wearing 'Em Higher in Hawaii; Sierra Sue; Any Time; Pasadena; Somebody Stole My Gal; Blue; and more. All tunes are shown with complete lyrics and…
read more >
PRODUCT ID: 98270BCD
FORMAT : Book/CD Set
UPC: 796279063821
MSRP:
$24.95
Your Price:
$24.95
Add to cart
20 Easy Fingerstyle Studies for Ukulele (Book/CD Set)
by Rob MacKillop
20 Easy Fingerstyle Studies for Ukulele is a collection of pieces and exercises for fingerstyle ukulele, aimed at those who have strummed chords on the ukulele and wish to learn fingerstyle technique. Author Rob MacKillop introduces techniques for the left and right hand and explanations for each piece that help you along the way. The accompanying CD contains both slow and up tempo versions of very tune in the book.
read more >
PRODUCT ID: 30025BCD
FORMAT : Book/CD Set
MSRP:
$17.99
Your Price:
$17.99
Add to cart
20 Old Time American Tunes Arranged for Ukulele (Book/CD Set)
by Rob MacKillop
This book features twenty superb arrangements of traditional Old Time American tunes by ukulele maestro Rob MacKillop. Included are classics such as Wildwood Flower, Man Of Constant Sorrow, Whiskey Before Breakfast, Angeline The Baker, and many others. All the music is playable with a pick or finger style, and the tunes are presented in both tablature and standard notation. The book includes accompanying audio.
read more >
PRODUCT ID: 30037BCD
FORMAT : Book/CD Set
MSRP:
$14.99
Your Price:
$14.99
Add to cart
Children's Songs for Solo Ukulele (Book/CD Set)
by Joe Carr
This book and accompanying audio present 38 classic children's songs arranged for solo ukulele. Included are nursery rhymes, lullabies and rounds. Because sing-alongs are an important part of children's playtime, words are included. These arrangements sound wonderful played by musicians of all levels. In the solo style, the lead melody is voiced on the higher strings while chords are voiced on the lower strings. The result is a pleasant, full-sounding arrangement that makes the ukulele sound surprisinglybig…
read more >
PRODUCT ID: 30094BCD
FORMAT : Book/CD Set
MSRP:
$14.99
Your Price:
$14.99
Add to cart
Bestseller
Children's Ukulele Chord Book (Book)
by Lee "Drew" Andrews
A chord book written for the young beginner (or even beginners of any age) showing a creative and simple way to learn and play ukulele chords. Chords are taught beginning with the most essential to more advanced. Chords are presented with exercises that build upon each other and eventually lead the student to playing logical and common chord progressions. Chords are shown in chord diagram form with photographs showing finger positions in relationship to the fretboard. Examples and exercises are presented in…
read more >
PRODUCT ID: 21503
FORMAT : Book
UPC: 796279103473
MSRP:
$5.99
Your Price:
$5.99
Add to cart